10 on Tuesday v.9
[1] I love the Texas Rangers Baseball Team. I was born and raised in Sao Paulo, Brazil and we don't have baseball there AT ALL, but since I have started dating my bf who is VERY MUCH into baseball and the Rangers I ABSOLUTELY LOVE THE TEAM! Last week, my bf and I went to a game and it was awesome. My favorite player is David Murphy but not because he is a good player, but because I actually got to meet him and kinda hangout with him when he was still a Baylor Baseball player a loooong time ago.
[2] So, everyone is talking about presidential candidate Mitt Romney's remarks about the 47%  and I had to watch it to see what it was all about. I am not an American citizen, cannot vote, therefore I consider myself very unbiased when it comes to politics. However, I am well-educated and I understand that when things are taken out of context they might mean something completely different. BOTH SIDES of American political spectrum do that and that is despicable. I do not agree with Romney's remarks, but I do agree – from empirical evidence – that A LOT of the American citizens expect the government to
give them stuff (that is also a big issue in Brazil – where I am from) and THAT IS WRONG! To criticize Romney on pointing that out it's just ignorant. For him to say that he will not care about that portion of the population when campaigning it is dumb! That's my 2 cents, which don't really mean much since I am not a citizen (even though I have been living in this country LEGALLY for 10 years, have gotten almost 3 degrees paid for by Americans, diligently pay my taxes, own property and assets, and STILL cannot find a way to stay in this country legally after next May since getting a job or a work visa has been proven to be something near impossible so far).
[3] PHEW!! Sorry about the venting…On a lighter note… While I was at the game I also played with this cool app called cinemagr.am that allows you to animate photos. It is a really fun tool and you should check it out!
[4] Check out this crazy cat:
[5] My nails are purple for now…I love the color purple!
[6] This week there were two crime incidents in my neighborhood, and when I mean "in my neighborhood" I mean RIGHT BY my place. The first one was on Thursday. I got home and looked out at the storage facility place that neighbors my apt complex and saw a BUNCH of cops and cop cars. It turns out that they fund a bunch of drugs in a car that was there…or inside one of the storage thingys…I am not sure, but the picture is here for yall to see. The second one was Friday evening. I was at home with the BF and we heard some "pop pop pop pop" and we looked at each other and asked ourselves "shots?!" but decided that it was proooobably something else. We live in the uptown area of Dallas and wouldn't really be characterized as a high crime area. Well, apparently we were wrong! Across the street from our complex there is a Taco Bell and a person got killed there in a drug related crime incident (#scary). We got informed of it by the apartment complex management people, and apparently the shooter has already been arrested. Here is the link to the "full" story from a news source.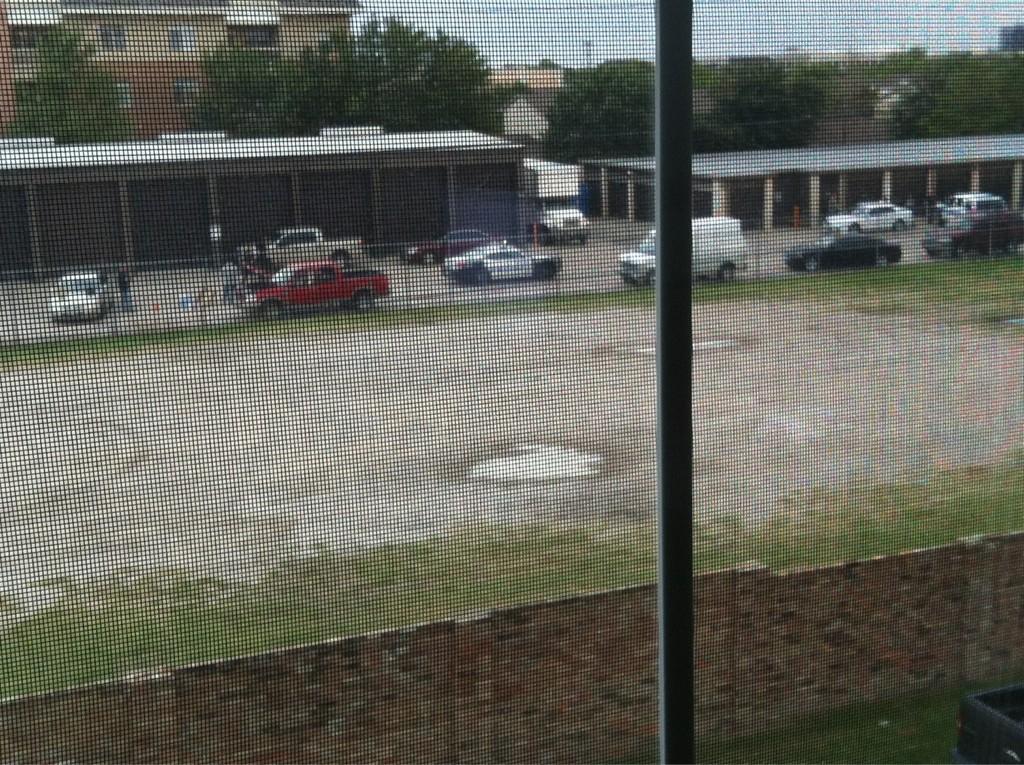 [7] Saturday night, after having an excellent dinner with friends at the Sundown at Granada restaurant we decided to go to the Den and have some drinks and dance. What we did NOT expect to see was this couple grinding SO HARD that the guy had to adjust his junk from the inside of his pants (yeah…I saw that) AND the top part of his junk was SHOWING OUTSIDE HIS PANTS! I know right?! The whole place was watching and thinking "what are these two thinking?!" The girl…good Lord…the girl was rubbing all over the guy and I just felt bad for her. Well…not too bad…I was able to sneak a pic of my beautiful friend Victoria and the couple on the background 🙂
[8] My dear friend @BaylorBarbee and former Baylor football player @TrentShelton created this new song/anthem for the Baylor Football team called Bears in Black and even got featured on the radio at an ESPN southwest show. Its pretty awesome 🙂
[9] I am now a MadFrog volleyball coach! I am coaching a 11-12's Fall series volleyball team with ADORABLE girls and I will also be coaching a 12's or 14's team. I LOVE coaching and being around the sport, so I am really glad and thankful I was able to join the MadFrog family. I will post more on my teams' achievements and all in the future.
[10] I have been invited to be the a keynote speaker along with my dissertation mentor Dr. Doug Rogers from Baylor for the Teachers Teaching with Technology conference in Waco at the end of October. We will be talking about augmented reality in education which is pretty much the focus of my dissertation 🙂 more deets to come.